Why did I write the book?
When teaching and discussing Arab-Israel issues in the 2000s I discovered a deep lack of knowledge amongst my students. There was little acquaintance with Hamas, the Muslim Brotherhood and/or Jihadi Islam despite 9/11 and other terror attacks against the West. Virtually no one had read the Hamas Covenant or any Jihadi literature. The few who had some familiarity with extremist Islam generally took a dismissive patronizing attitude expecting compromise from Jihadis or blamed the West for any dysfunctions in the Arab Muslim world.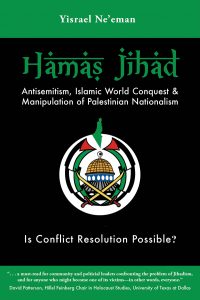 I live in central Galilee where Muslims comprise close to half the population and I feared radical Islamist influences would lead to a never-ending clash between Muslims and Jews (and eventually all others). Confronting and subduing Hamas-influenced Islamic fundamentalism became a matter of self and community preservation.
In late 2009 I resolved to analyze the Hamas Covenant in a short booklet to expose its vicious antisemitism, rooted in traditional Islam and European Czarist/Nazi diatribes.  This proved to be far from sufficient because the overall historical and ideological foundations of Jihadi Islam demanded exposure. I decided to write the history of Hamas (the Palestinian Muslim Brotherhood) and analyze its Covenant to understand what gave the organization so much influence and respect.
My Conclusions
Conclusions are as such: Hamas says what it means, means what it says and then takes political and military actions accordingly. Many Westerners believe all is given to compromise. Jihad, however, is non-negotiable.
Hamas follows its ideological-theological commitments, only implementing a pragmatic breather or Islamic cease-fire known as a "hudna" when necessary. A hudna is designed to rearm, reload and retrain in order to defeat the enemy and conquer the world as part of a never ending Jihad. Hamas defines itself as a full partner in the never ending world Jihad.
The Muslim Brotherhood and Hamas are viciously antisemitic, but also are anti-Christian, anti-West, anti-secular and anti-women (who hold a specific Jihadi family role). The Muslim-Jewish clash is seen as never ending until Judaism is destroyed and its few survivors subjugated to Sharia law.
Secular nationalism needs to be destroyed, especially in the Arab world and most specifically secular Palestinian nationalism as represented by Fatah and the PLO. The PLO/Fatah will be replaced by Jihadists of Palestinian origin.
As a microcosm of the overall conflict against the global Jihad, the Hamas clash with Jewish nationalism (Zionism) and the Jewish People is small in comparison with the universal Jihad.  Other conclusions then followed:
The public needs to be familiar with Jihadi literature in general and Hamas writings in particular, as they are a leader in this domain. Nazi, Bolshevik and Maoist literature remains largely unread with few taking these aggressive ideologies seriously  - the result was the murder of over one hundred million people.
Defeating Jihadi terror demands universal commitment and cooperation.
Liberalism and secular Enlightenment ideals will not defeat Hamas and Jihadi Islam since they are foreign to Muslim fundamentalist thinking. As a specific interpretation of Islam, Jihadism is rooted deeply in the Muslim world and even if not acted upon, Holy War is always an option. Conflict resolution must come from within Islam.
The foundational Islamic text, the Koran, has positive and negative attitudes toward Jews, Christians and others. The tool of abrogation or nullification of Koranic verses was used by Islamic jurists over the centuries to justify discriminatory and brutal behavior toward non-Muslims. By using this same tool in "reverse," leading Islamic clerics can take a positive attitude towards all, retain their religion and eliminate the Jihadi dictate for world conquest.
The Arab-Israel/Muslim-Jewish conflict can likewise be solved by re-emphasizing Koranic verses upholding the Israelite/Jewish covenant and connection to the Land of Israel (also known as Palestine).
A two pronged approach is necessary. Jihadi Islamic ideals must be totally discredited and its military, political state entities eliminated. Other interpretations of Islam and in particular a "reverse abrogation" need to be encouraged by Muslims themselves to ensure a liberal pluralistic understanding, allowing for all peoples and cultures to exist side by side without fear of  massive destruction through Jihad.